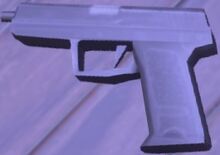 The
Heckler & Koch USP 45 Tactical
, referred to as the
USP
, is a weapon featured in
Call of Juarez: The Cartel
.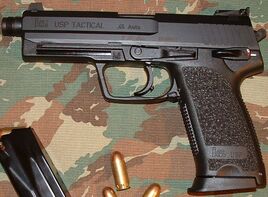 Mechanics
Edit
The USP 45 Tactical semi-automatic pistol incorporates a fully adjustable rear sight, a high-profile front sight (to be visible if a suppressor is attached), an extended, threaded barrel and O-Ring, match trigger, and an adjustable trigger stop. A unique feature of the USP 45 Tactical is the barrel is left-handd threaded (which makes Heckler & Koch Mk. 23 pistol suppressors incompatible with it).
Call of Juarez: The Cartel
Edit
The USP is used exclusively by Mendoza Cartel members. The USP is also the first handgun that can be unlocked to Team Cops in multiplayer. In the campaign it is unlocked by achieving level 12 in the Secret Agenda.
If one stands up against a wall, one can read "USP TACTICAL" on the slide.