San Lorenzo is a Mexican town in Call of Juarez: Bound in Blood.
Call of Juarez: Bound in Blood
[
]
While drinking in the Gros Coyotes Cantina, the three McCall brothers witnessed Marisa walk into the cantina and speak to an employee. A ruffian blocked her exiting, and the Rattler began making suggestive remarks. Ray shot the thug dead as he attempted to grab Marisa, and a firefight ensued pouring out into the streets of San Lorenzo. After rescuing her and killing most of The Rattler's allies, Thomas/Ray dueled the former and killed him. Juan Mendoza arrived shortly thereafter with his minions, assisting the McCalls in defeating the remaining bandits. Tienda De Pistolas was a store that the McCalls may have visited during their stay in San Lorenzo.
Layout
[
]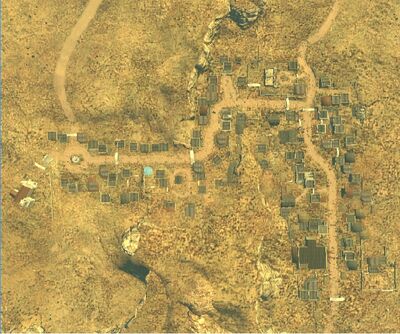 The village is located in a hilly area, Behind the main streets there's several small alleys and farms. Most of the road entrances are marked by gates and the Gros Coyotes saloon is near the north-east entrance. From there, the road proceeds towards the south-west almost straight until a crossroad. Here, the south-west road leads outside the town, while another road heading south-east brings to the other section of the town. Both to the east and the south-west there are two large hills overlooking the town. The street continues until a square with a fountain. A gate to the south-west brings outside the town. To the east there's a steep, rocky hill with a staircase which leads to the uphill church.
Trivia
[
]
Judging by the source files, the time is early afternoon. Considering the position of the sun, the exit road close to the saloon faces towards north-east.