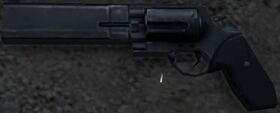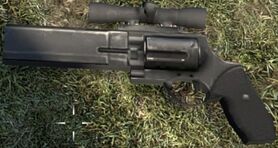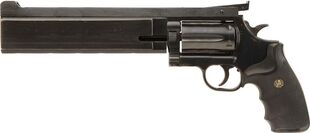 The
Dan Wesson PPC
revolver, referred to as the
PPC
or
PPC Scoped
, is a weapon featured in
Call of Juarez: The Cartel
.
Mechanics
Edit
The Dan Wesson revolver was developed by Dan Wesson Firearms (a part of Česká zbrojovka Uherský Brod (CZUB)). A unique feature was the revolver coul interchange barrels, and a cylinder latch. The Dan Wesson PPC revolver has a unique barrel which is heavy (to reduce recoil). However, PPC revolvers are rare, and are custom items.
Call of Juarez: The Cartel
Edit
The PPC along with the Bull are the two most powerful revolvers in the game, and end up being more common than the Model 29 and GP100 later on in the game. It holds five rounds, and is modeled with a black finish. The PPC Scoped is only available to those who purchased the game at Wal*Mart. The PPC Scoped is the only scoped handgun in the game, and one can dual wield both variants of the PPC. The PPC Scoped is not used by enemies. The PPC is unlocked by achieving level 16 in the Secret Agenda.