Harvey Alexander Logan (1867 – June 17, 1904), also known as Kid Curry, was an American outlaw and gunman who rode with Butch Cassidy and the Sundance Kid's infamous Wild Bunch gang. Despite being less well known than his counterparts, he has since been referred to as "the wildest of the Wild Bunch". [1] He reputedly killed at least nine law enforcement officers in five different shootings, and another two men in other instances, and was involved in several shootouts with posses and civilians during his outlaw days.
 Early Life
[
]
Curry then traveled back to Knoxville. In a pool hall on November 30, 1902, Curry was captured after a lengthy physical fight with lawmen.
He was convicted of robbery because facts in the murder of the two policemen were not definite and no witnesses would testify, and he received a sentence of 20 years at hard labor and a $5,000 fine. On June 27, 1903, Curry escaped. Rumors that a deputy had received an $8,000 bribe to allow his escape spread, but nothing could be proven.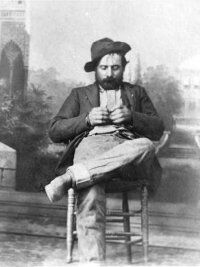 On June 7, 1904, Kid Curry was tracked down by a posse outside of Parachute, Colorado. Curry and two others had robbed a train outside Parachute. As they escaped, they stole fresh horses owned by Roll Gardner and a neighbor. The next morning, when they discovered their horses had been stolen, Gardner and the neighbor set out in pursuit of the gang. They joined up with a posse and continued tracking the outlaws. The gang shot Gardner's and his neighbor's horses from under them. Gardner found cover while his neighbor started running. Kid Curry took aim at the neighbor and Gardner shot Curry. The wounded Curry decided to end it at that time, and fatally shot himself in the head to avoid capture. The other two robbers escaped.[14][15] The rifle Gardner used is still in the family today. Rumors persist that Curry was not killed in Parachute, and was misidentified, having actually departed for South America with Butch Cassidy and Sundance. Charlie Siringo resigned from the Pinkerton's, after believing they got the wrong man.
Curry is buried in Pioneer (Linwood) Cemetery overlooking Glenwood Springs, Colorado, a short distance from fellow gunfighter Doc Holliday's memorial.[16]
Call Of Juarez Gunslinger
[
]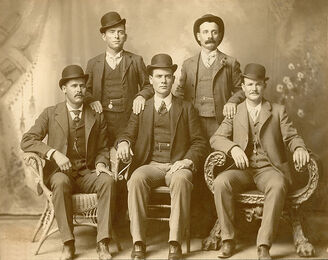 Kid Curry Appears during the stages " Not so Great Train Robbery " & " 1:30 to Hell"