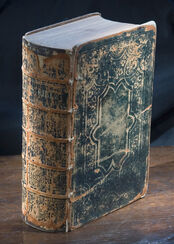 The Holy Bible is a book that is featured throughout the Call of Juarez series.
Description
[
]
The Holy Bible is the text of Christianity. It is used by nearly every Christian denomination, and is the source of information for the Christian doctrine.
Call of Juarez: Bound in Blood
[
]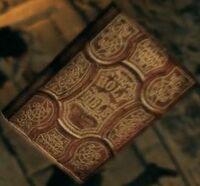 William McCall, a young preacher carried a Bible for many years and read often in it, quoting it in his attempt to help his brothers find redemption. When Ray and Thomas got into a stand-off, William stepped in between them, and threatened to draw a gun at the count of three. Ray, thinking William was going to pull a gun on him, shot his brother. In actuality William had been reaching for his Bible, and had tricked him in order to save his brothers from darkness. Ray retrieved the Bible and became a preacher, inspired and humbled by William's sacrifice.
Call of Juarez
[
]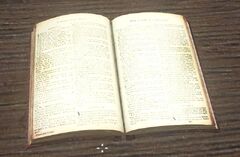 For the next 17 years, Reverend Ray spent his life preaching to his fellow citizens of Hope, Texas. After discovering Billy by Thomas and Marisa's corpses and assuming him to be the murderer, Ray began a long pursuit, carrying his Bible with him until his death at the hands of Juarez.
In game, the Bible can be used to confuse enemies, they will lower their guns and stare at Ray, giving him enough time to kill them. The Bible is ineffective against Apache renegades and animals. Billy may have taken William's Bible after Ray's demise.
Call of Juarez: The Cartel
[
]
Ben McCall was born into a Methodist family, and was planning on becoming a minister like his father. However, Ben was drafted into the Vietnam War, where he experienced horrific events. Ben's faith began to die, and after the events of the war, Ben had struggled to keep to the faith. However, Ben did keep a copy of the Bible on his desk in his office when he became an LAPD detective. After the events of The Cartel, Ben is seen reading it at Patrick and Jessica Stone's graves where he finally seeks redemption.
Trivia
[
]
The version of the Bible that William and Ray used was the King James Version.
An achievement can be unlocked in the Xbox 360 version of Call of Juarez called "Religious Man" where the player has to confuse 44 enemies with the Bible.