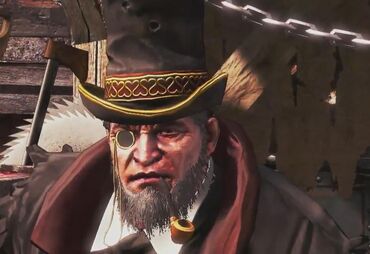 Henry Plummer was a character in Call of Juarez:Gunslinger who appeared in the mission The Magnificent One. He is also one of many real life characters presented in the game.
Life
[
]
He robbed gold from many people and became the leader of a gang named "The Innocents''. He used dynamite to kill his opponents.
Death
[
]
Killing Johnny Ringo closed the first chapter of Silas' Saga of revenge and started him on a bloody career as a bounty hunter.
Someone put a hit on Henry. He offered very much money: all the gang members weight in gold. Silas Greaves entered the mine and killed Henry after a gunfight.
Real life
[
]
Henry Plummer was born 1832 in Addison, Maine. He served as sheriff in Bannock, Idaho Territory from May 24, 1863 until January 10, 1864. Before his short time as a sheriff he was an outlaw and is generally believed to have been the head of The Innocents, that was responsible for nearly a hundred deaths. Henry Plummer was hanged in 1864 by Montana Vigilantes.