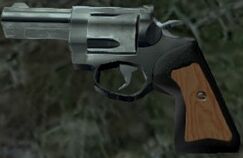 The
Ruger GP100
, referred to as the
GP100
, is a weapon featured in
Call of Juarez: The Cartel
.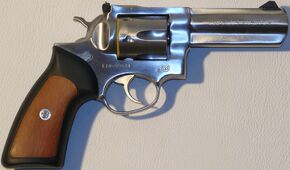 Mechanics
Edit
The Ruger GP100 was the first revolver produced in the second generation of Ruger double-action revolvers. The GP100 uses a different trigger mechanism, with seperate trigger and hammer springs. This improved the trigger pull. Traditional revolvers had exposed metal at the front and rear of the grips. The GP100 however used a rectangular "peg" grip which was large enough to enclose the hammer spring and strut. The grips are made of Santoprene and the side panels made from black plastic, goncalo alves wood, or rosewood. The GP100 is also available with fixed or adjustable sights.
Call of Juarez: The Cartel
Edit
The GP100 is one of the first handguns used against the player in the game, and is used in the first half of the game where it is then replaced by the PPC and Bull. The majority of its usage is by street gangs and bouncers, which reflects on the GP100's popular use as an affordable, and easily concealed weapon. It is unlocked after completing the mission "The Exchange".