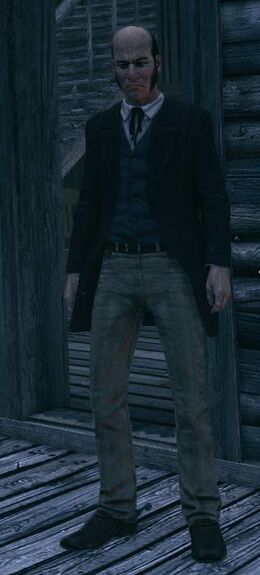 Mister Freeman is a minor character in Call of Juarez: Bound in Blood.
Early Life
[
]
Freeman became a ranch owner at an unknown time, possibly inheriting it from family. At some point he fathered a daughter named Rebecca, who lived with him at the ranch. It is likely he was a widower. After the War Between the States he began to have trouble with a competing rancher named Randy Snipes who desperately tried to obtain his ranch by any means necessary after Freeman refused to sell.
Call of Juarez: Bound in Blood
[
]
In anticipation of Snipes' inevitable invasion, he sent his daughter Rebecca to stay with his sister in Kansas. He also put up a poster in a small town nearby offering a hundred dollars for the help of a gunslinger in defending his ranch. Ray/Thomas McCall answered the ad and successfully fought off Snipes' forces. After the battle Randy announced that he had captured Rebecca, demanding Freeman hand over the ranch or else. Desperate, Freeman requested the McCall rescue his daughter even though he had no more money to give. With the gunslinger's success, Freeman was reunited with his daughter and Snipes and his remaining minions were dead.
Appearance
[
]
Freeman was a balding man in his forties. He had brown hair and long sideburns. He wore a dark brown jacket, a grey vest, a white shirt, grey trousers and brown boots. He used a Ranger as his sidearm.
Personality
[
]
Freeman was a Christian man who cared deeply for his daughter. He was very brave, stopping at nothing to protect what was rightfully his. Likely knowing that he didn't stand a chance against Snipes and his men at the Snipes Farm, he was not too prideful to ask the McCall for his help.
Trivia
[
]
In multiplayer, the Gunslinger and Rifleman classes use the same face model as him.