Fort Smith, Arkansas (founded 1817) is a town featured in Episode II of Call of Juarez: Bound in Blood.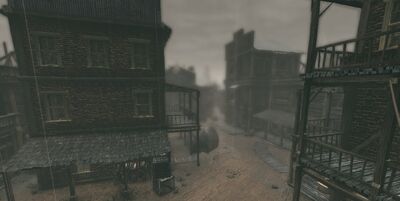 Background
The site of Fort Smith became part of the United States in the Louisiana Purchase. Soon after, the Pike Expedition explored the Arkansas. Fort Smith was founded in 1817 as a military post, but the Army abandoned the first Fort Smith in 1824 and moved 80 miles further west to Fort Gibson. John Rogers bought up former government-owned lands and promoted growth of the town of Fort Smith.
Fort Smith's name comes from General Thomas Adams Smith, General Smith had ordered Army topographical engineer Stephen H. Long to find a suitable site on the Arkansas River for a fort. General Smith never visited the town or the forts that bore his name.
Call of Juarez: Bound in Blood
In 1865, After deserting their unit during the War Between the States, Ray and Thomas McCall, along with their brother William passed through Fort Smith. Ray and Thomas got into a feud over Betsy, Marshal Mike's daughter. Thomas had slept with Betsy despite Ray thinking she was his. After being confronted by Marshal Mike, one of the two brothers killed him in a duel. The majority of the townsfolk then began trying to lynch the McCalls over the incident, pursuing them outside Fort Smith until their own trap allowed the McCalls to escape.
Amenities
J.S. Werner's Leather Mercantile
Sheriff
Hotel
Dr. Carrigan's Drug Emporium
Shoes and Boots
Groceries
Trivia
Fort Smith is where Ray learned of the Gold of Juarez.
In real-life, Fort Smith was considered one of the "gateways to the West". It was one of the many towns people stopped at to purchase supplies before heading towards the frontier.