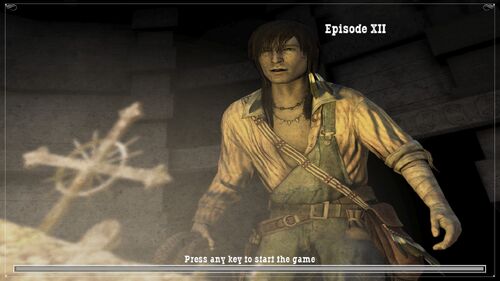 Juarez: "Out of my way! Finally... I waited so many years... And now it's mine... I knew you'd find your way to the gold... so I followed you. Why? Why did you lie to me?"
Billy: "I never lied!"
Juarez: "You betrayed me, just like your mother! And now you'll die just like she did, on her knees..." -Juarez and Billy after the latter found the Gold of Juarez.
Episode XII, Treasures Hidden in the Sand is the twelfth episode of Call of Juarez. Billy Candle enters a set of caverns and avoids numerous traps in order to locate the Gold of Juarez, to serve as ransom for Molly Ferguson.
Story
[
]
Characters
[
]
Weapons
[
]
Secrets
[
]
Secret #33 "Piotr Sztepiuk" -
Secret #34 "Pawel Selinger" -
Achievements (Xbox 360)
[
]
Spider Hunter (20g) - In Episode XII kill 10 spiders using the whip.