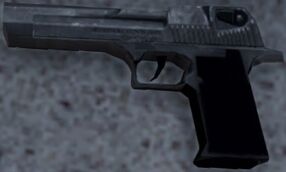 The
Desert Eagle Mk. I
, referred to as the
Eagle
, is a weapon featured in
Call of Juarez: The Cartel
.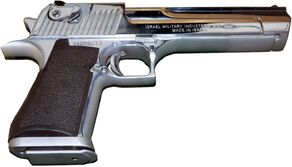 Mechanics
Edit
The Desert Eagle uses a gas-operated mechanism that is normally found in rifles. Unlike other pistols, the barrel does not move when fired. The Desert Eagle is not used by any police or military force in the world. The reason being is the Desert Eagle is cumbersome, and is mainly used for hunting and target shooting.
Call of Juarez: The Cartel
Edit
The Eagle is one of the most powerful non-revolver pistols in the game. It is also Ben's preferred sidearm. The Eagle holds 8 rounds and is chambered in .44 Magnum. It is unlocked by achieving level 13 in the Secret Agenda.
Ben is first seen wielding an Eagle in the mission "Panorama".
Antonio Alvarez and Michael Duke are seen armed with Eagles in the mission "Ghost Town". This is the only other time friendly NPCs are seen wielding a weapon other than the 92FS outside of cutscenes.