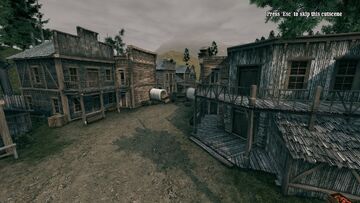 "Coffeyville, Kansas, October 5. 1892. The Dalton brothers will attempt to rob two banks in broad daylight, while townsfolk try to stop them. Once the First National Bank and C.M. Condon & Company's Savings and Loan fall, the Dalton Gang will have to break through a barricade to escape the town alive." -Description of Coffeyville from Wild West Legends.
Coffeyville is a multiplayer map in Call of Juarez: Bound in Blood and location of a level in Call of Juarez: Gunslinger.
History
[
]
Coffeyville is a city situated along the Verdigris River, located in Southeast Kansas, in the Central United States.  It was founded in 1869 as an Indian trading post by Col. James A. Coffey, serving the population across the Oklahoma border in what was then Indian territory, the town was confirmed and expanded by the arrival of the Leavenworth, Lawrence & Galveston Railroad in 1871. With the arrival of the railroad, a young surveyor, Napoleon B. Blanton, was dispatched to lay out the town. The naming of the town was left to the toss of a coin between Col. Coffey and U.S. Army Captain Blanton. Blanton lost the toss and the town was officially named Coffeyville.
Description
[
]
Coffeyville features a main street that makes a rectangle. There are numerous buildings and houses on both sides of this street that can be entered including two banks, and there are many trees and bushes that provide cover in the center of the map. One of the primary hotspots is located in the center of the map behind the houses, as there are many places to hide and ambush other players. Another is a corner next to where the barricade is located. In Wild West Legends, the Outlaws must rob two banks located in the town and then blow up a barricade in order to win the match, this is modeled after the Dalton Gang's famous failed heist in Coffeyville.