The
CZ 75 Compact
, referred to as the
C75
, is a weapon featured in
Call of Juarez: The Cartel
.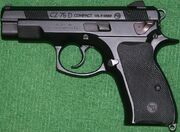 Mechanics
Edit
The CZ-75 is a short recoil, locked breech pistol. It uses a linkless cam locking system (meaning the barrel and slide are locked together when fired). Most CZ variants can be fired in either single-action or double-action mode. The CZ-75B is the second generation CZ-75, and has new features. These features are an internal firing pin safety, a squared and serrated trigger guard, and a ring hammer. The CZ 75 Compact is a standard CZ 75 with a slightly shortened grip and 3.9 inch barrel.
Call of Juarez: The Cartel
Edit
The C75 is one of three firearms in the game not used by an enemy (the other being the PKM and M24), and the only handgun in-game not used by an enemy. The C75 is acquired by purchasing it off the UPlay service for 20 Units. A C75 however can be picked up in the Alcazar on the pistol crate, albeit the mission ends seconds after it becoming available to the player.