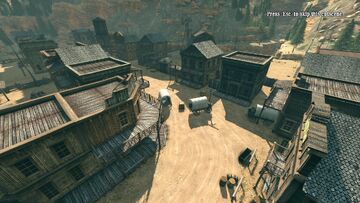 "Nogales, Arizona territory, August 6. 1895. The High Fives gang will attempt a bank robbery. Outlaws will try to break into the local bank, make their to a cash vault and open a safe inside. Next they will capture the stables. From there they'll head for Skeleton Canyon, where they can make their getaway." -Description of Nogales from Wild West Legends.
Nogales is a multiplayer map in Call of Juarez: Bound in Blood.
Nogales is a city in Santa Cruz County, Arizona, United States. Nogales was at the beginning of the 1775-1776 Juan Bautista de Anza Expedition as it entered the present day U.S. from New Spain, and the town is now on the Juan Bautista de Anza National Historic Trail. In 1841, a land grant from the Mexican government to the Elías family established Los Nogales de Elías. Following the Gadsden purchase in 1853, Nogales became a part of the United States of America. In 1880, Russian immigrant Jacob Isaacson built a trading post at present-day Nogales. The U.S. Postal Service opened the Isaacson post office but renamed it as Nogales in 1883.
Description
Edit
Snipers tend to take to the rocky region outside of town, where they can pick off enemies from a distance while in cover, making them formidable in the Shootout and Posse modes. This spot is also utilized often by the defending team in Manhunt, or the wanted man in Wanted. In Wild West Legends, the Outlaws must breach the bank and open a safe, then get to the stables. Due to the map's limited cover when compared to others, more players tend to confront one another in the streets and in the area behind the buildings.
Community content is available under
CC-BY-SA
unless otherwise noted.